Big challenges and big data
At the 'well-seasoned' age of 42, Pieter Wessels decided to quit his job and pursue the career he'd always wanted.
"I went back to university, completed an MSc in knowledge discovery and data mining, and applied to join the Civil Service," he says. "I wanted to put my talents to work in a way that would benefit people. And the huge breadth and scale of data within government was immediately attractive to me."
Finding new approaches to big data analysis
Without a doubt, DWP Digital has the most extensive range of data sources of any government department, and the global growth in data means the scale is always expanding. This in turn means that data scientists are always adapting and learning new things.
"I felt that data science was in its infancy here when I joined," he says. "There was a unique opportunity to be part of something new and exciting, and to influence the direction of travel."
Since starting in his new role he's shared his learning and research into data science topics with fellow analysts.
"My particular passion is for text analysis and ensemble methods. I enjoy the training involved in that strand of machine learning. It amazes me how often people can be quite apprehensive of new techniques – until you explain to them exactly what something does and how it works."
Pieter is co-located with many people from his team in our Sheffield hub
Within his team, and the wider department, he's also been busy working with colleagues and academics to fully understand how our models are used.
"The constraints, the impact on the individual citizen's life – essentially the ethics behind every decision we take," says Pieter. "We're well on the way to developing a robust ethical framework similar to those that statisticians and other analysts have, but more directed at the issues we face."
One idea he's currently exploring is the impact of establishing a registry of projects – similar to the technical documentation of limitations that engineers would have when building bridges and airplanes.
Developing and spreading knowledge
Pieter has worked on a training programme to teach the computer programming language, R, to analysts more used to working with SAS.
"Not only does this new language offer a huge variety of new and interesting techniques for analysts – it's also free. That's often a big plus point in the Civil Service!" says Pieter.
Understandably, he's been selected as a mentor on the government-wide Data Science Accelerator programme. "My mentee is from the Department for Education," he says. "The problem she is solving will have a direct impact on the public purse – and she's keeping me on my toes!"
Pieter has also had several opportunities to sharpen his data science skills at hackathons, including DWP Digital's Hack the North event, with members of the public and other government departments.
"Hackathons are really fun, because I never fully know what the problem statement is until the day, and I get to co-operate with, and compete against, other data scientists. It's a huge opportunity to learn from people I might not meet in my normal day."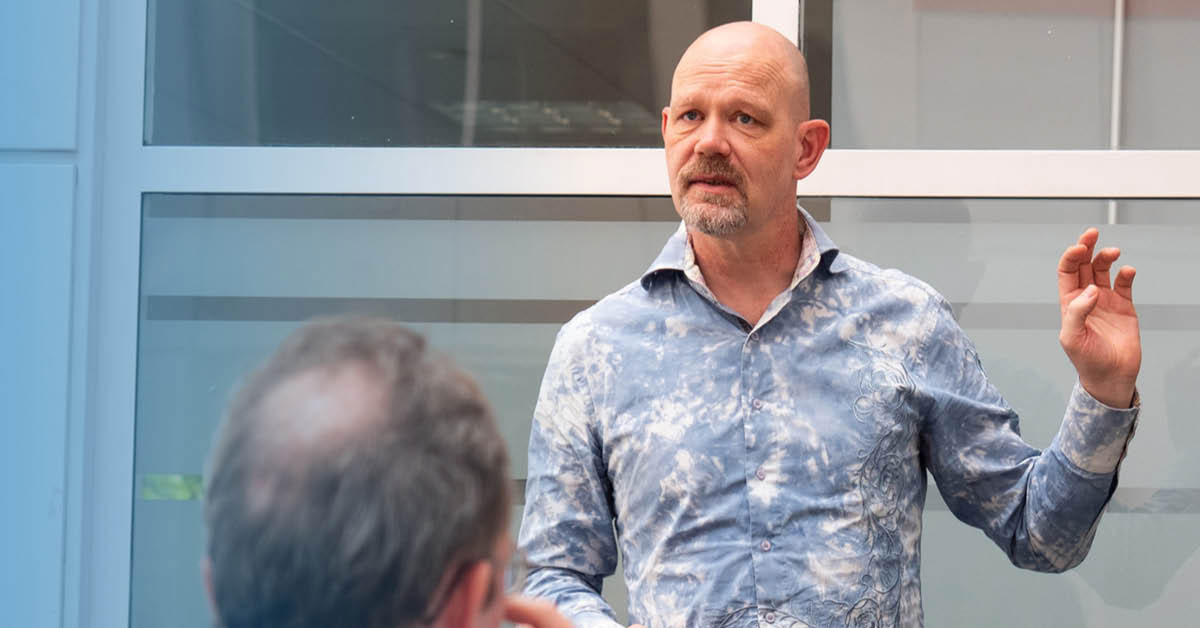 Pieter admits there are challenges in his role. "I'm getting to grips with unsupervised learning – not my favourite – and I'm learning from a colleague who has years of experience with these techniques.
"I've had to think really hard, and make difficult technical decisions because of tight technological constraints. It really tests your knowledge of a technique, and your understanding of the problem when there's just not enough computing power, data or time available."
This year, Pieter is looking forward to helping and guiding a new generation of data scientists.
"I'll be building our capacity by improving our data pipelines, so that we can do more interesting stuff," he says. "I'm also looking forward to exploring new hardware environments, for example AWS, Amazon's cloud computing service and Azure, the Microsoft equivalent."
He's also looking forward to this being the year when his team will really strike out and produce some ground-breaking tools and widgets for DWP.
"For me, data science at DWP Digital is genuinely a dynamic and fast moving world," he says. "Three years after joining, I'm still here, and I'm still loving every minute of it."
Filter
Related jobs